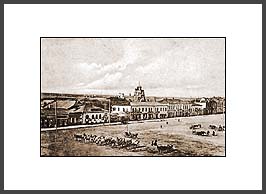 Market square. Photo 1913.
Business signs read: Tobacco; Fruits; Watches; Tobacco; Yu. A. Gordyansky's Office Supplies; pharmacy.
Publisher: Yu. A. Gordyanskij (Гордянский).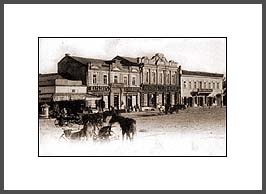 Market Square. Business signs read: Soap from the Factory of A. Ya. Korsunksij (variant: Korsunsky, Корсуньский); 'Konkurentsiya', Store of Abramovich (variants: Abramowitz, Abramowicz, Abramowitch, Abramowitsch, Абрамович); I. M. Lejferov's Store (variants: Leiferov, Leyferov, Лейферов). Early 1900s.
Published as postcard by I. M. Grilikhes (variant: Griliches, Грилихес) in Bakhmut.